WIDE VARIETY — Importer and domestic cheese producer Arthur Schuman Inc. offers its customers a variety of cheese types in several different formats.
By Kate Sander
FAIRFIELD, N.J. — In a climate of global financial uncertainty, diversity is helping to keep business growing and expanding at Arthur Schuman Inc., which claims that with both domestic production and imports it is the largest hard cheese company in the United States.
Perhaps best known as a cheese importer, Arthur Schuman Inc. has long had a presence in the domestic cheese market as well. That presence has expanded in recent years, says Neal Schuman, company president, as the company made the strategic decision to purchase domestic cheese plants and processing facilities. The company also partners with several domestic and international cheese manufacturers to offer its wide array of products and flavors.
"Strategically, we felt we needed to hedge our sourcing strategy that was too dependent on foreign countries," Schuman says, noting, among other things, the tremendous cost savings in transportation. "That perception was predicated on our feeling that the U.S. was going to be a surplus producer and exporter of dairy products."
When Neal Schuman's grandfather, Arthur Schuman, first started the business more than 60 years ago, the focus was on bulk products. Over the years, though, the company has grown by developing a full spectrum of products at every price point. All segments of the industry needed products that were easier and more convenient to use, and Arthur Schuman Inc. met these needs by investing in state-of-the-art equipment for cutting, grating, shredding, cubing, shaving, slicing and dehydration.
The first foray into domestic plant ownership beyond Arthur Schuman's flagship processing facility in New Jersey was the acquisition of Imperia Foods in August 1998.
Grater Inc., Elgin, Ill., followed in June 2006, and the facility, now known as Arthur Schuman Midwest, gave the company substantive capabilities in slicing, shredding, grating and party platters, Schuman says, noting the company serviced industrial, foodservice and retail accounts.
Then in August 2006, Arthur Schuman acquired a vendor, Lake Country Dairy, Turtle Lake,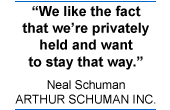 Wis.
"We're very proud that they're both brand new, state-of-the-art facilities," Schuman says of Arthur Schuman Midwest and Lake Country Dairy, noting they both were constructed this decade and have excellent audit scores.
"The owners of Lake Country Dairy had been our friends and cheese processing consultants for over 30 years," Schuman says, noting the natural synergies of the acquisition. The Lake Country Dairy facility produces specialty cheeses using both new and traditional manufacturing techniques, Schuman says.
Lake Country Dairy combined these techniques recently to introduce Roma Cello. Roma Cello, the company says, delivers the premium flavor of Pecorino Romano at an extremely good price point. The cheese, which features "light sheep's milk notes," is shelf cured and provides institutions and consumers the mouthfeel of Pecorino Romano without the imported cost. The cheese is available in wheels, grates, shreds and cups.
The company's latest acquisition was just this past summer when it acquired Masson Cheese Co., Vernon, Calif., a manufacturer of Mozzarella, String and Ricotta. The facility gives the company additional grating, shredding and cheese dehydrating capabilities as well as a West Coast base to better serve its customers. It is now known as Arthur Schuman West.
"Strategically for our hard cheese business we've completed the circle," Schuman says. "We have off-shore and domestic plants producing, and we've added three domestic cheese processing plants, each with some unique packaging capabilities.
"They provide the ability to reduce transportation costs and a substantial advantage over a single processing facility," Schuman says, adding that the domestic plants also give the company greater control for producing cheese to its exact specifications.
The acquisitions also have allowed the company to explore untapped markets.
"Some of the acquisitions serviced market segments we weren't in, for example certain types of industrial and foodservice accounts, and the slicing business in Elgin was a line extension," Schuman adds. "The bottom line was we could drive a lot of transportation costs and production costs out of the system with these acquisitions."
Neal Schuman's sister, Joan Allen, is the director of marketing and operations for Arthur Schuman West. The brother and sister team are the third generation of the Schuman family to operate the business; at age 90, their father Jerome Schuman, the founder's son, remains involved in the company as chairman of the board. Neal Schuman's daughter Allison became the fourth generation of Schumans to be involved in the cheese business when she recently joined the company.
"We like the fact that we're privately held and want to stay that way," Neal Schuman says. He believes that by being privately-held the company has a lot more flexibility to have partnership-based relationships with vendors and customers and better respond to their needs.
Partnerships always have been key to the business, Schuman says, noting that throughout the company's history it has developed exclusive relationships with top producers in countries from which it sources. As a vertically-integrated company, Arthur Schuman maintains quality control and supervision of all production, both domestically and abroad, and does not spot buy cheese.
For example, Arthur Schuman Inc. has a multiple-generation relationship with Italy's Zanetti. According to the company, Zanetti is the largest exporter of Italian Parmesans to the United States, and Arthur Schuman Inc. is the exclusive importer.
Arthur Schuman Inc. also enjoys a three-decade relationship with SanCor, the largest dairy cooperative in Argentina, and Uruguay's Conaprole.
Arthur Schuman Inc. markets its vendor brands under its own label and also uses these
core products for the Cello brand for grated and shredded cheese in bags, cups and PET jars. Other company brands are Argitoni, Bella Rosa, Empiria, Imperia, Messana and Universal.
The company also has a new presence in the domestic Blue cheese market as of last month. Arthur Schuman Inc. now is marketing Wisconsin Farmers Union's Blue cheese produced under the Montforte label.
"We continue to develop new products hand-in-hand with our customer base," Schuman says, adding, "We keep our business focused on what we do best — providing solutions to our three trade classes: industrial, foodservice and retail.
"We focus on making high-quality products in the various niches we service," he says. "We have high-quality, unique products at fair market pricing."
And while the company has expanded its domestic presence, it remains actively involved in international trade affairs. Four presidents of the Cheese Importers Association of America have been from Arthur Schuman Inc. and among other service, Neal Schuman has twice served on the U.S. government's agricultural technical advisory committee for dairy. Jerome Schuman last month was honored at the annual Dairy Forum with the National Cheese Institute's Laureate Award for his years of service to the industry.
"When you have a 90-year-old father who's actively engaged and loves to work, that sends a message to all of our team about our strong desire to improve our processes and products and to perpetuate our relationships with our partners," Schuman says.
"We're always trying to improve our standards," he adds. "We're passionate about what we do here."
CMN