Photo courtesy of Murray's Cheese
CAVE AGED WINNER — Murray's Cave Aged Reserve Greensward, a collaboration between Murray's Cheese of New York and the Cellars at Jasper Hill of Vermont, received a Super Gold and placed in the final round of 16 cheeses among more than 4,000 entries at the recent World Cheese Awards in Wales.
---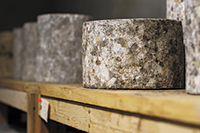 Photo courtesy of Murray's Cheese
AGED TO PERFECTION — Hard, longer-aged cheeses, such as Murray's Cave Aged Original Stockinghall Cheddar shown aging above in Murray's caves, can take years to develop and perfect.
By Rena Archwamety
LONG ISLAND CITY, N.Y. — In its first year participating in the World Cheese Awards held last week in Wales, Murray's Cheese won medals for all four cheeses it entered. Further accolades came when its Cave Aged Reserve Greensward — a collaboration with the Cellars at Jasper Hill — made it to the final round of 16 cheeses out of more than 4,000 entries from around the world.
"I've always had my eye on this contest. It's a big deal, a big production, and lots of cheeses are entered," says Peter Jenkelunas, director of affinage, Murray's Cheese. "We decided to go for it and entered just a few cheeses this year, not the whole line of Cave Aged. The four cheeses that won were all we entered. It was intended to be a learning experience, and it worked out well for us."
Murray's Cave Aged Reserve Greensward, a spruce-wrapped round made by Cellars at Jasper Hill in Vermont and washed in cider by Murray's team of affineurs, was awarded a "Super Gold" and was the only U.S. cheese to land in the top 16 at the contest. Greensward also won Third Place Best in Show earlier this year at the 2022 American Cheese Society competition.
Murray's describes the cheese as having "a silky, oozing, spoonable paste that combines tastes of mushrooms and brandied cherries with woodsy, sprucy notes." Greensward, which originally was created for the Michelin Star-rated New York restaurant Eleven Madison Park, currently is available exclusively through Murray's New York City retail stores, website and several restaurants (though no longer at Eleven Madison Park, which has since switched to a vegan menu).
The other three Murray's Cave Aged creations to win World Cheese Awards are collaborations with New York's Old Chatham Creamery. Murray's Cave Aged Reserve Hudson Flower, a sheep's milk cheese coated with a blend of rosemary, lemon thyme, chevril and hop flowers, also won a Super Gold medal. Silver medals were awarded to Murray's Cave Aged Original Stockinghall Cheddar and Murray's Cave Aged Original Buttermilk Basque, both made at Old Chatham using original Murray's recipes and aged in Murray's Caves.
Jenkelunas estimates that Murray's currently has about 15 cheeses in its Cave Aged program, and the available cheeses fluctuate depending on what comes in and out seasonally or as limited-time offerings.
Greensward and Hudson Flower, the Super Gold award winners, are two of Murray's long-standing Cave Aged Reserve cheeses and have been available for about 10 years.
"Because these cheeses have been around so long, we've had a lot of opportunity to perfect them, altering the aging process with small tweaks over the years," Jenkelunas says, noting that both have done well over the years at other competitions.
Murray's has operated its state-of-the-art cheese caves in New York City since 2004. Each of its caves is set up to house a different cheese style — the Alpine Cave, Bloomy Rind Cave, Washed Rind Cave or Natural Rind Cave.
"Each cave is calibrated in terms of temperature and humidity for the particular style of cheese we're trying to age in those environments," Jenkelunas says. "In theory, we can age any style of cheese you want. There are particular attributes of our caves, as any caves in general, that make our cheeses unique. From one cave to another, there are differences in temperature, humidity and airflow that can influence the cheese. If you put the same cheese in two different caves, you'll end up with a slightly different product based on those differences."
Greensward, for example, starts out as Harbison, a soft spruce-wrapped cheese made and marketed by the Cellars at Jasper Hill. Murray's affineurs then wash and age it to a more meaty, savory direction, Jenkelunas says.
Murray's Cave Aged program is a mutually beneficial arrangement, he adds.
"For us, we want to provide our customers with unique cheeses. We can control the aging process and the ingredients we put on the cheese so we can create unique products for our shops. In our New York City caves, we really control our production and get top-quality cheeses," he says. "On the producer side of things, affinage is a lot of work. It's a nice benefit for the cheesemaker to make a cheese and sell it to us before the aging process. A lot of cheesemakers might have a bottleneck on what type of cheeses they have to age. We can make nice products and help them be a little more profitable."
Ideas for new cave-aged cheeses come both from Murray's and from requests from cheesemakers who reach out to Murray's to collaborate. The process and time it takes to develop a new cheese varies a lot depending on the style, Jenkelunas notes. Harder, longer-aging cheeses such as Stockinghall Cheddar could take years to develop and perfect, while a softer cheese that only takes a few weeks to age could be a few months from concept to counters.
In addition to the award-winning collaborations with Jasper Hill, Old Chatham and other regional cheesemakers, Murray's also has created several cave-aged favorites with imported cheese varieties. One of these is Murray's Cave Aged Reserve Annelies, developed in collaboration with Walter Räss of Switzerland. Murray's ages the mild three-month wheels an additional nine months in its Alpine Cave, bringing out sweet flavors of roasted hazelnuts and alpine grasses with undertones of butterscotch and cocoa.
Murray's Cave Aged program also has done a lot of goat cheeses from the Loire Valley of France, Jenkelunas says, noting that it can be difficult to find quality, fresh Loire Valley cheeses like this in the United States.
"We import them fresh and do all the ashing in-house. We give them all a coat of vegetable ash, and they are quick-aging cheeses. In a couple of weeks, the geotrichum rind is growing. These have been really successful for us," he says.
The cheeses that come into Murray's Caves are about 50% domestic and 50% imported, Jenkelunas notes.
"We don't have a particular preference besides we're just looking for delicious products to age and get out to customers," he says.
Right now, Murray's Caves and affineurs are focused on the holidays, increasing production and aging for certain collections that are popular for the season, such as the Loire Valley cheese Selles Sur Cher. The team also is always working on research and development as well as new collaborations.
About once a month, something new or limited-edition comes out of Murray's Caves, Jenkelunas says. The next limited-edition cheese on schedule to arrive is a raw milk Manchego imported from Spain that has been aging in the caves for about nine months. Set to be released in the next couple of weeks, this variety will be marketed as something special for the holidays.