BW Packaging Systems provides purposeful solutions for customers


Photo courtesy of BW Packaging Systems
NEW AND IMPROVED — BW Packaging Systems recently introduced a new Hayssen ISB VFFS bagger offering the highest levels of sanitary design and construction available in the market today. The machine offers film and product feeding features uniquely suited to handle the ever-changing range of sustainable packaging films.
By Alyssa Mitchell
ST. LOUIS — In an ever-crowded and evolving marketplace, BW Packaging Systems has positioned itself as a leading provider of purposeful packaging solutions for cheese and dairy customers.
As Barry-Wehmiller's global team of packaging professionals, BW Packaging is best known for its reputation of caring for people and its broad range of high-performance packaging solutions. Comprised of five divisions — Accraply, BW Flexible Systems, BW Integrated Systems, Pneumatic Scale Angelus and Synerlink — BW Packaging Systems offers comprehensive packaging machinery and solutions including complete packaging lines, filling and closing, flexible packaging, labeling, end-of-line solutions and systems integration.
At next week's Pack Expo in Chicago, BW Packaging experts will spotlight some of the company's newest innovations for cheese packaging, including its Hayssen ISB VFFS (vertical form fill seal) bagger.
According to Dan Minor, global product line leader for VFFS solutions at BW Flexible Systems — a division of BW Packaging — the Hayssen ISB offers the highest levels of sanitary design and construction available in the market today.
"With an overall rating of IP66, the machine is designed to withstand direct high-pressure washdown and the aggressive sanitizing agents required to ensure food safety," Minor notes. "With extensive use of precision servo controls, the Hayssen ISB offers film and product feeding features uniquely suited to handle the ever-changing range of sustainable packaging films."
The Hayssen ISB is ideally suited for packaging fresh or chilled shredded, grated or cubed cheeses into foodservice and retail packs. It takes hygienic design, cleanability, performance and ease of use to a new level for cheese packaging, Minor adds.
The machine design was based on the most recent industry standards for dairy, meat, produce and RTE (ready to eat) applications, notes Margaret Valinski, director of VFFS sales, North America, for BW Packaging.
"Minimizing harborage points for contamination and accessibility for cleaning was a priority," Valinski says.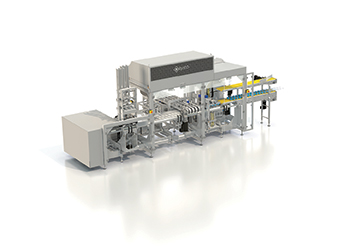 Photo courtesy of BW Packaging Systems
SYNERLINK SOLUTIONS — Synerlink is showcasing Versatech, its latest filling solution for the food and dairy industry, at Pack Expo. Versatech's modular design enables customers to continually realign the machine with their evolving business strategy.
"Throughout the machine, stand-offs are utilized when attaching components, and the entire frame is stainless steel open channel design with sloped surfaces for self-draining."
She notes special attention was given to the wiring and cabling. Traditionally, wiring is bundled together with wire ties; however, this approach makes it impossible to thoroughly clean and decontaminate the machine.
"On the Hayssen ISB, all the cabling and tubing is separated and retained in purpose-made brackets. This approach allows for complete washdown," Valinski says.
"Apart from food safety, a top challenge that our customers voiced was high employee turnover," she adds. "It was essential that the Hayssen ISB be easy to operate, maintain, clean and change over. Using customer anthropology observations and in-depth customer interviews, we designed the machine and its operating procedures in a user-centered way to ensure that the user actions and experience are as simple, efficient and error-proof as possible."
For example, on machine changeover, BW Packaging optimized the sequence and location of changeover adjustments such that an operator can systematically and quickly perform the work with the fewest number of steps around the machine, Valinski says.
"Another example relates to the most important factor of all — safety," she adds. "Through our research, we observed operators and maintenance personnel putting themselves at risk when changing over the forming tube. This assembly can be quite heavy and ergonomically awkward to change out. With the Hayssen ISB, we placed the forming tube on a swing-out arm, allowing safer and easier access."
Learning a new machine or process always comes with challenges, Minor notes.
"For the operator, we have designed the user interface with graphical troubleshooting indicators and on-screen instructions for recovery. To prevent untrained or unauthorized personnel from making changes to machine recipes and settings, we have incorporated RFID pass card access — in most cases any standard employee ID badge can be used to provide customized access credentials unique to that person," he says. "The system records any parameter changes as well as who made the change and when the change occurred. In the event a parameter has been changed from the stored recipe setting, a small flag appears next to that setting so that supervisors can immediately see if a change has been made."
He adds one of the most popular features is status illumination. Based on the operating state, the entire machine illuminates different colors, such as:
• Running-green;
• Stopped-red;
• Warning-yellow; and
• Waiting-blue.
"This feature allows operators and supervisors to observe the machine condition from across the room rather than relying on stack lights that are often blocked by other equipment," Minor says.
Synerlink, another BW Packaging division, also will be showcasing an immersive 3D view of Versatech, the company's latest filling solution for the food and dairy industry, at Pack Expo. Versatech's modular design enables customers to continually realign this machine with their evolving business strategy, solving the market need for a filling solution that can outlast the standard 20- to 30-year life cycle.
Fabien Jégo, design and product marketing leader at Synerlink S.A., says keeping up with the latest innovations in product packaging can be difficult without the right packaging machinery.
"Our innovative Versatech machine is designed to adapt to the market and keep an eye on the future without hindering the efficiency or scalability of production — all at the same time," he says.
The concept was built with flexibility in mind, he adds.
"Synerlink's long experience in the industry and continuous engineering studies allow us to build a machine that responds to all your needs. Synerlink's Versatech cup-filling machine is engineered to fill a wide variety of processing cups while minimizing changeover time and maximizing your production efficiency. Thanks to the automatic loading and unloading of slats, the change in production is efficient and optimized," Jégo says.
The Versatech cup-filling machine allows companies to adapt to customers' needs and diversify offerings by accepting and processing cups of different shapes, materials, diameters and heights with a format changeover in less than 20 minutes.
The machine is designed for fast and easy cleaning with removable slats. No tools are required, while the fast-return system reduces the number of slats required. Jégo notes it works well with cream cheese, spreadable cheese, cottage cheese and all kinds of dairy products.
"The Versatech cup-filling machine abides by all safety regulations, and its ergonomic design improves the day-to-day operation in your plant. With a chest-high loading station and dedicated tables for containers or boxes, the operator's movements are optimized," he says. "The high visibility throughout the whole production process assures the correct functioning of the machine."
Additional advantages include minimizing the time spent on maintenance, achieving high production speeds and expanded product offerings.
"The Versatech cup-filling machine is built to grow with your production business. Our editable hardware allows for future evolutions in your product packaging," Jégo says. "As your business evolves, the Versatech cup-filling machine can adapt with you."
BW Packaging Systems also will showcase customer-focused solutions from other brands including Accraply, BW Integrated Systems and Pneumatic Scale Angelus at booth #S-2100 at next week's Pack Expo.
This year's booth theme, "Conversations to Innovations," highlights the shared progress BW Packaging Systems and its customers have made solving prominent industry challenges through ongoing dialogue about labor shortages, sustainability commitments, food safety standards and more.
"We understand there is a tremendous amount of value that can be created by listening to customers and embracing their challenges as our own," says Carol O'Neill, Barry-Wehmiller Group president, packaging. "It's through these conversations that we're able to understand our customers' needs and develop purposeful solutions to optimize their packaging processes."
CMN