Guest Columns
Perspective:
Industry Issues
Changing challenges into opportunities
Michael Dykes
Michael Dykes is president and CEO of the International Dairy Foods Association. He contributes this column exclusively for Cheese Market News®.
More than 1,000 industry leaders and stakeholders gathered at Dairy Forum last month to consider the future of dairy and discuss the opportunities that would help to keep or place them on the path to growth and prosperity. As I stated at Dairy Forum, what got the dairy industry where it is today won't get us there tomorrow.
So, what does the future look like? And what can we do to shape it to our advantage?
After a year of talking to scores of executives at dairy products companies and suppliers, as well as colleagues at national and international dairy organizations, I can confidently say that our three priority areas of opportunity are consumers, innovation and changing markets. Let's look at each one.
• Consumers are complex and changing
Since the 1970s, growing consumer sophistication has created increasingly complex motivations for consuming beverages, according to the Beverage Marketing Corp. In response to evolving and expanding consumer needs, companies have offered a steadily expanding assortment of beverages and beverage categories. Where we had three basic categories — milk and juice, soft drinks, and coffee and alcohol — in the 1970s, today there are 15 separate categories of beverages.
We're living in a culture of choice, and our diverse industry is well positioned to meet it. As an industry, we need to do more listening, satisfying, understanding and serving consumers, because everything hinges on their perception and purchases. Serving consumers well means not only listening to their requests but understanding their behavior, buying patterns, conversations on social media and other venues to truly learn what they want.
We also must consider the messages we share. Consumers still care about how products taste or what they cost, but they are demanding more! They want to know the list of ingredients, and it better be a short one.
They want products that are produced responsibly with respect for the farm animals, the employees and the environment.
Consumers also want to connect with the values and beliefs of the brands they're purchasing. They are looking for experiences. It's up to us to provide compelling and convincing stories that help consumers feel good about buying our products.
Maintaining consumer trust will be important in the years ahead — trust that the products are safe; trust that they're being responsibly produced; and trust that company values reflect their own values. Enhanced communication efforts with compelling messages will help, but providing new and innovative products and packaging that meet them where they live is another strong answer.
And that leads perfectly to the second most important opportunity — innovation.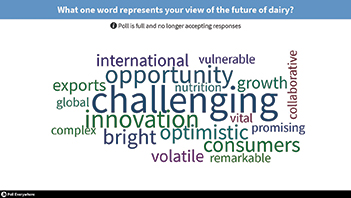 • Valuable ingredients and marketable fractions
We need to stay on top of emerging trends and find ways to gain a market advantage. We are in a new era where a gallon of milk is much more than a beverage. It represents a whole series of valuable ingredients and marketable fractions that will continue to emerge and lead to expanded market opportunities.
Although we're well positioned to build on dairy's rich nutritional profile, our products are competing against an ever-expanding mix of products that address consumer lifestyle changes and preferences and provide much more than daily nutrition. In the year ahead, I encourage dairy companies and suppliers to think about products, and packaging, as solutions for a healthy and mobile lifestyle and not just filling a nutritional need.
Some of this packaging will require different supplies and updated equipment that can handle faster filling and continuous manufacturing. Producers, processors, suppliers and retailers will need to work together to discover innovative solutions for the entire dairy value chain.
• Level the playing field
The changing and growing global marketplace leads to the third opportunity for dairy.
We have an abundant supply of high-quality milk, excellent safety records and unmatched distribution channels, so we can meet the world's growing demand for dairy products with protein. But with U.S. farm milk production continuing to outpace domestic consumption, we'll need exports to reach 20 percent to take up that production volume, and we need a level playing field.
That's why we've met several times with Robert Lighthizer, the U.S. Trade Representative, to make sure he knows the value of the North American Free Trade Agreement (NAFTA) to U.S. dairy, as well bilateral agreements with countries such as Japan, Vietnam, Indonesia and Malaysia, to name a few. China is an important market, too.
The U.S. dairy industry can't stand still, and it's important for the United States to play a leadership role in facilitating world trade. The European Union and other global competitors are charging ahead, broadening relationships and opening new markets. Once other countries begin buying from our competitors, it will be very hard, if not impossible, to re-enter those markets. A proactive U.S. trade policy is essential to help lead us into the future.
What do industry leaders think about the future? We posed that question at the beginning and end of Dairy Forum to find out. On Monday, the word with the biggest response from the audience was "challenging." Two days later, after thought-provoking sessions, small group meetings and abundant networking, the audience offered a different view: "Opportunity" had replaced "challenging" as the leading view of the future. My thoughts exactly.
CMN
The views expressed by CMN's guest columnists are their own opinions and do not necessarily reflect those of Cheese Market News®.