By Kate Sander
CENTRAL POINT, Ore. — When David Gremmels and Cary Bryant purchased Blue cheese manufacturer Rogue Creamery eight-and-a-half years ago, they had a vision. They didn't have a lot by the way of formal cheesemaking experience, but they had ideas, dreams and a drive to succeed.
Today, the two have fulfilled many of their dreams and are on their way to fulfilling more.
In the years since acquiring the company, Gremmels and Bryant have taken their backgrounds in marketing and microbiology, respectively, to propel the company into an elite, award-winning class of specialty cheese producers. Rogue Creamery has earned both national and international acclaim for its cheeses, most recently winning a silver medal for its Lavender Touvelle at the World Cheese Awards in England in November. The company is known for its Blues — with a recent addition it now has eight varieties — but also makes a handful of others including Cheddars and the company's self-styled Touvelle, an American-style cheese that's a bit of a cross between a Jack and a Gouda with hints of sweet cream and roasted nuts.
| | |
| --- | --- |
| LATEST IN THE BLUES — Flora Nelle, named after Rogue Creamery owners David Gremmels and Cary Bryant's grandmothers, is the creamery's latest introduction in the Blue cheese market. Gremmels describes the cheese as having both "tropical tones" and "enhanced savory notes." | SOAKING UP SUNSHINE — Rogue Creamery this fall completed the installation of solar panels that will supply enough energy for 25 percent of the plant's consumption. |
The company's network of facilities started out as just one cheese plant in 1979, when fourth-generation cheesemaker Errico Auricchio, the company founder and president, moved his family from Italy to America to start his own cheese company. Now up to five cheese plants, how long it will be before BelGioioso Cheese undertakes its next expansion is hard to say — "We're always looking to make capacity improvements," says Gaetano Auricchio, Errico's son. When the company expands again, it might be safe to assume it will be in northeastern Wisconsin, where all of the company's cheesemaking and handling facilities currently are.
"We strategically locate our plants within 30 miles of our local farmers so we
can gather the freshest milk daily," says Francis Wall, vice president of marketing, who notes BelGioioso uses all rbST-free, Wisconsin milk for its products.
BelGioioso Cheese doesn't cut corners, and operating five different plants allows each to specialize in specific cheeses that are produced there daily by the same cheesemakers, says Errico Auricchio. It is this focus on quality and authenticity that helps set the company's cheeses apart, he says.
"You can taste the difference," Gaetano Auricchio adds. "Our cheesemakers have extensive training, we have quality checks, strong customer service. Our customers are happy with our responsiveness to their needs. It's the sum of many small details that makes us who we are."
Attesting to the cheese's quality, the company has won numerous awards in the past year including a silver for its American Grana and bronzes for its Asiago and Fresh Mozzarella at the World Cheese Awards in London.
At the American Cheese Society's competition last August the company's Sharp Provolone Mandarino placed first, its Mild Provolone, Burrata and Mascarpone placed second, and its CreamyGorg and Asiago placed third.
And as if those weren't enough, at the World Championship Cheese Contest held in Wisconsin last spring, the company received a best in class for its Parmesan and a best in class for its Mascarpone as well as third place awards for its Aged Provolone and CreamyGorg.
Another part of what makes BelGioioso Cheese stand out is innovation. The company continues to create innovative and convenient products for both retail and foodservice, areas in which it splits its sales. Fresh Mozzarella is one of the company's best sellers, but the company executives see far more potential for this cheese.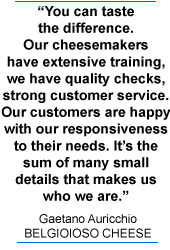 One way the company has made the cheese more user-friendly is through the introduction of Fresh Mozzarella in thermoform packaging. For the past few years the company has offered a handful of sizes in thermoform packaging, convenient because the packaging lacks the water that Fresh Mozzarella has traditionally been packaged in. Now the company is expanding that convenience even further to consumers.
BelGioioso Cheese has introduced its pearl-size Fresh Mozzarella balls as well as its ciliegine (cherry-size) Fresh Mozzarella in 8-ounce thermoform packages. In addition to the advantage of convenience, the thermoform packs have a longer shelf life — 60 days from production vs. 37 days for water-packed, according to Wall.
In the past year, the company also has introduced new exact-weight sizes of its Crescenza-Stracchino, a fresh, rindless cow's milk cheese that is soft and creamy; Peperoncino, its trademarked blend of Asiago flavor with the hot taste of red peppers; and Creamy Gorgonzola, its blue-green veined cheese with a full, earthy flavor and creamy texture. The company's freshly shaved Caesar Blend, which combines Asiago, Parmesan and Romano cheeses, also is available in an exact-weight retail cup.
Another new introduction is the company's Burrata in 4-ounce balls. Fresh Mozzarella filled with shreds of Mozzarella soaked in cream, Burrata is silky on the outside and creamy on the inside and boasts a richly sweet, milky flavor. Originally only available in 8-ounce balls, the company now offers it in a package of two 4-ounce balls, perfect for sharing with a friend.
A common theme one sees throughout BelGioioso Cheese's products is a focus on convenience and quality. The company believes in making its specialty cheeses easy to use and not intimidating for consumers who might not be familiar with them.
The company doesn't have a chef on staff, but many family members, cheesemakers and employees experiment with the cheeses and collaborate on recipes, creating in essence a "family cookbook" from which the company draws when marketing its products and sharing recipes with consumer magazines which might feature the company's cheese. Recipe cards, point-of-sale materials and demos — getting the cheese in people's mouths — are important marketing tools for the company, Wall says.
The company also encourages display contests. Recently in Texas, BelGioioso cheeses were displayed at Central Market as part of a Super Bowl display contest. Wall sees all kinds of potential for displays to draw in customers, and he quickly can list several different ideas off the top of his head for the spring season such as March Madness and Easter displays.
Chefs also are an important part of getting the word out about the company's cheeses, Gaetano Auricchio says. For example, the company wasn't selling much of its Crescenza in the Green Bay area until a chef who is a friend of Gaetano Auricchio's began featuring the creamy cheese on a sandwich at his deli. Now the sandwich is a best seller on the menu, and BelGioioso is seeing more interest in the cheese at retail. In fact, Auricchio says he predicts it's the next "up and coming cheese."
In the next few weeks, the company also is introducing crumbled Ricotta Salata, a whole milk Ricotta with added salt that is pressed into a form, then crumbled. The milky cheese, similar to Feta but with a more milky, nutty flavor, will be available in a 5-ounce retail cup. Currently the cheese is available in whole wheels and wedges for retail.
Looking to the future, the company executives aren't inclined to predict a lot, other than to note they expect to see their cheese, currently sold nationwide and in Mexico and Canada, available in additional markets.
"We don't focus on fads; we are committed to continuing to produce award-winning artisan cheeses that meet our customers' needs," Gaetano Auricchio says.
CMN