SPECIALTY CHEESE — Vella Cheese wheels have won many awards over the years. The company makes Italian cheeses and Monterey Jacks and is perhaps best known for its specialty Dry Jack. It also makes Mezzo Secco, a Jack that is somewhere between fresh Jack and Dry Jack.
By Kate Sander
SONOMA, Calif. — While some cheesemakers constantly strive for company growth and attention for their products, Ig Vella, 77, says he is satisfied with letting his products speak for themselves. He doesn't want to be a flash in the pan, a cheesemaker who shoots to stardom and falls just as quickly.
But as Vella has spent much of his life in the cheese business that his father, Tom, started in the 1930s, he is anything but a short-term success. Vella Cheese Co. of California may be small — it makes a little more than a ton of cheese four days a week — but it has won numerous awards and a place in the hearts of many who are seeking authentic, handmade Jacks and Italian cheeses.
Vella says the consumer following his cheeses enjoy is the result of hard work and attention to detail.
"We have an absolute, damn-near fixation with consistency," Vella says, "and consumers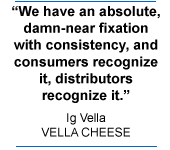 recognize it, distributors recognize it."
Celebrating its 75th anniversary this year, Vella Cheese has updated over the years but still does many things the same as they were done in 1931. The cultures, the care, the personal hands-on techniques and even the old curing rooms are the same.
In fact, since 1969, Vella Cheese has been located in the stone building where it opened in 1931 (for about 18 years cheesemaking had moved to a nearby, somewhat larger creamery where Tom Vella had made cheese before starting his own company). Consumers — locals and tourists alike — always have been welcome, and the company sells cheese onsite while sharing the uniqueness of the building and the company's cheese.
Thirty-five years ago, Cheddar was a hot commodity — artisan cheese didn't have the following it does today. But as the tourists went home in the 1970s, they helped spread the word about the marvelous "new" cheese they had tasted. It wasn't Cheddar, and, in fact, it wasn't even orange. It was pale and creamy, with a delicate flavor. It was the cheese created in the Gold Rush Days in Monterey by a Scot named David Jacks, whose name it carries today.
The Vellas knew a winner when it rolled across their counters. Then when local Italian families demanded a quality grating cheese, Vella Cheese responded with a carefully aged and nurtured Dry Jack for which the company is most famous today.
Made like fresh Monterey Jack but aged for another seven to 10 months, Dry Jack is a firm, pale yellow cheese with a sweet nutty flavor. Vella Cheese also offers Special Select Dry Jack, which has all the same qualities of its Dry Jack but is aged a little longer. This cheese has a firmer texture than the Dry Jack, due to its extra aging.
Presently, the company has available for release each month about 100 wheels of Dry Jack that have been aging almost four years. These wheels, available under Vella's Golden Bear label, are extra special, Vella says.
"Aging is the one thing you can't speed up," Vella says dryly.
Part of Vella Cheese's success is turning the common into the not-so-common and bringing back cheeses from the past.
An example is Vella Cheese's Mezzo Secco, a partially-dry Jack that was produced in the 1930s and re-introduced in 1999.
The cheese originally was created because of the need for a soft or medium-soft cheese to hold up during the hot summer months in an "ice box." In California from the 1920s through 1946, mechanical household refrigerators were found only in the homes of the wealthy or in commercial establishments. The majority of households had iceboxes that were cooled by a melting block of ice. When summer weather came, milk and butter were placed directly onto the ice block, and other foods that needed cooling — including fresh cheese ­— were left to fend for themselves in the adjoining compartment. Consumers requested a firmer fresh Jack that would not get runny, yet was not as firm as Dry Jack. A midway formula evolved ­— hence Mezzo Secco — and was offered for sale from May to October. At the end of World War II, when mechanical household refrigeration became cheaply available, Vella Cheese stopped making Mezzo Secco until it resurfaced in 1999 and began to win awards at various competitions.
Another cheese that Vella Cheese is known for is its Romanello. Until it was brought back into production a few years ago, the last Romanello was made at Vella Cheese in 1962. Romanello is similar to Romano, except that it is made with cow's milk instead of sheep's milk. It is, however, made with a sheep's milk enzyme formula which gives it a sweetness but not the pungency sometimes associated with sheep's milk cheese, Vella says. The company has aged some of its Romanello for more than three years now, and Vella says it is a beautiful grating cheese.
Interest in the company's Asiago also has been increasing as of late, Vella says. Receiving particular interest from foodservice professionals is Asiago Pepato, a flavored Asiago that works well on salads, Vella says.
While there are certain cheeses that are mainstays for the company, Vella continues to experiment with old favorites. One of the cheeses he particularly enjoys making right now is Colby, which is best known as a Wisconsin favorite and a bit of a commodity. However, Vella believes that handmade Colby has the potential to do well in California. The little he makes, Vella says, does well in the company's onsite store.
"You keep going with the things you have and toss out something once in a while you think might fill a niche," Vella adds.
During the past decade, the artisan cheese movement has taken off. However, prior to that, Vella says his company was one of the few companies who filled the niche of making handcrafted cheeses. Despite having so many new artisanal cheeses on the market, Vella believes his time-tested formulas stand up well.
Vella also has been lending his expertise to some of the nation's up-and-coming cheesemakers by being involved in the California Cheese Guild and helping host cheesmaking seminars. He warns young cheesemakers not to get ahead of themselves or entertain romantic notions, citing data about the incredibly high costs of getting started in the cheese business.
"You've got to have consistent cheese and a consistent return to the people making the cheese," he says. "You've got to feed your family."
There also are two young cheesemakers who get some special help from Vella: David Gremmels and Cary Bryant. In 2002, the Vella family sold their Blue cheese factory in Central Point, Ore., to Gremmels and Bryant, because, as Vella tells it, they had the drive and desire to make the company succeed, even if they didn't have the highest potential offer in terms of money. Under Gremmels and Bryant's leadership ­— and with Vella serving as master cheesemaker and returning to the plant at least once a month to provide input and assistance — Rogue Creamery has made significant strides in the specialty cheese arena during the past three-and-a-half years.
The mutually high regard in which Vella, Gremmels and Bryant hold each other is evident, and it's allowed the trio to make new varieties of Blue and expand the business as well as be instrumental in pulling together an Oregon Cheese Guild so that the small artisan cheesemakers in Oregon can share some of the synergies enjoyed by cheesemakers in other parts of the country. In addition, both Vella Cheese and Rogue Creamery carry the other's cheeses.
"I've been very happy with the set-up," Vella says.
Vella believes that one of the keys to success for both Vella Cheese and Rogue Creamery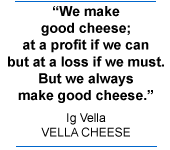 ­— besides the focus on consistency — is sustainable agriculture. It's an issue that he, Gremmels and Bryant discuss frequently.
For example, while it's not feasible for Vella to produce organic cheese, he does make cheese from rBST-free milk. And, in 2002, Vella Cheese added solar panels to its roof that are not only environmentally-friendly but are consistently saving the company $2,000 a month in energy costs. Much of the initial investment Vella either has received grants for or has been able to write off; within the next three years, Vella expects the solar panels to be completely paid for and be contributing to the company's bottom line.
Still, the financial bottom line, while a necessity, isn't where Vella's heart is.
His philosophy, he says, can be summed up by a phrase he read about a whiskey company 50-some years ago. Instead of the word "whiskey," he substituted "cheese," and has made it his motto.
"We make good cheese; at a profit if we can but at a loss if we must. But we always make good cheese."
CMN